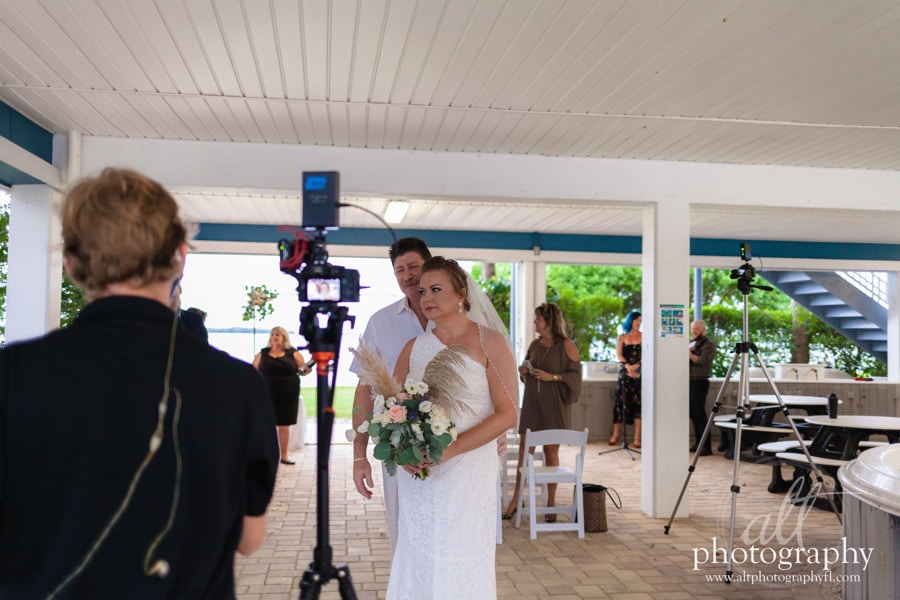 It's Spotlight Day! Where we introduce you to incredible Orlando wedding venues and vendors,  and the stories behind their companies who help Wedding Venue Map couples have their best wedding day. 
It gives us great pleasure to introduce Elijah Everson from Live Hub Events.
When people ask "what do you do", how do you answer?
We tell people that we are in the business of reconnecting people together. We help brides and grooms share intimate moments with their loved ones near and far. We offer a professional quality live stream at a price they can afford because we believe that nothing is more important than community and connection. Watching a video 3 months later is nothing like being there in the moment as it happens. Because that isn't always possible that's what we do. We offer people the chance to be there live as it happens and share in the joys and emotion in real-time.
When and how did you get into the wedding industry?
I first got into the wedding industry by doing photography for a few of my friend's weddings. I quickly fell in love with the enchantment of the day and capturing those precious moments. From there I started capturing weddings on video and until recently had been providing games and entertainment for brides and grooms. I absolutely love being able to be apart of a group of people "other vendors" that put in the hard work so that the couple can have a magical experience.
What is your favorite thing about what you do? What's your WHY?
The favorite thing about what we do is getting a chance to help couples share the intimate moment of their wedding day with a family member that couldn't afford to travel to their ceremony or take off the time from work. Nothing is worse than the feeling of having a loved one not be able to share in the special moment.
What motivates you to do this every day?
What motivates us to do this every day is when a couple mentions to us how happy their cousin or other family member was that they got to see the wedding ceremony as it happened instead of waiting 3 months for the video from the wedding videographer.
How did you decide on the name of your company?
We decided to call the company Live Hub Events because while other planners are focusing on the short term and doing virtual events we believe that there is no substitute for people to be able to share a moment together. The idea behind Live Hub  Events is that we are a resource for couples, event planners, or companies wanting to host some type of event.
What is important for clients to know about your company before they book you?
It is important for clients to know before they book us that we are not necessarily a replacement for a wedding videographer. While we do try and capture moments before and after the ceremony for use in the highlight video we are there to make sure their friends and family that are spread throughout the world can share in this special moment with them. We have years of experience in filming, IT, and audiovisual that goes into making their stream special and that is what they get when they hire us.
What type of events do you specialize in?
We specialize in doing live streaming for all types of events but we truly enjoy doing live streams of wedding ceremonies.
Why do couples hire you?
Couples hire us because either they don't have a wedding videographer or they do but their videographer doesn't offer live stream packages. Even if they do when you add this additional element to a normal videographer there are a lot of things that can go wrong. By hiring us couples let their videographer capture that beautiful cinematic film and let us take care of broadcasting their ceremony in real-time.

What does your most popular package include?
Our most popular package includes up to 3 camera angles, a custom webpage to view the broadcast, professional audio gear, and a 15-60 second highlight video of your wedding day.
Tell us about some of your package options and the price range for these packages.
Our standard package starts at $650 for a standard live stream. This includes 1 camera and an operator. Our other wedding package includes 3 cameras, a custom viewing page, a technician, and a highlight video of your wedding. We also offer a zoom conference add on, backup internet, and additional cameras depending on your needs.
What are the most common questions you get asked by brides and/or grooms?
If I can live stream to Facebook with my cell phone for free then why pay for your service?
There are a few things to know about live streaming to Facebook. First is Facebook limits your stream to 720p. Regardless of the camera, your stream will only show at 720. We set up a website where your viewers can view the full high-quality stream or at a rate their internet can support. The other issue you will run into is if you are playing Copywrite music during your ceremony. Facebook will automatically detect and mute your live stream audio during this time meaning your viewers will hear nothing until Facebook determines that there is no more copy write music.
Do the cameras you are using get in the way of our photographer and or videographer?
The answer is no! We work with your planner, videographer, and photographer to make sure that we can get the best quality stream for you without inhibiting what they are trying to capture as well. Often times we will actually provide a high-quality audio feed for your videographer to use in the wedding video if they don't have a quality setup. We also use low profile stands and cameras to ensure that your wedding doesn't turn into a full tv production.
Do you limit the number of people that can watch?
No! We do not limit the viewership. We, however, do have some guidelines for our packages based on our years of experience. For example, a single camera setup would be appropriate for a small elopement with limited people in attendance. However, if you were having a large crowd for your ceremony we would set up multiple camera angles to make sure we can capture every moment of your special day.
Do I get a download of the live stream after the wedding?
Yes, you get two download links if you chose our multi-camera package. The first link is a RAW un-edited version of your live stream. The other is a highlight video that we include in our multi-camera package.
The best piece of advice for brides or grooms.
While some wedding videographers or photo booth companies may offer live streaming add-ons for a smaller cost there are a lot of factors and experiences that go into making a high-quality live stream. When you hire a company like ours that is what we are there to do. We focus on the stream so that you don't have to. Nothing is worse than your uncle or aunt missing out on the moment because they are too busy holding an iPad up to capture your ceremony. Where your wedding photographer has to move or work around them and misses a key moment because your friend stood up to "get a better angle."

Tell us a Venue you enjoy working at and why.
Lakeside Inn – The staff and location of the lakeside inn are absolutely amazing. From the beautiful views of the lake to the historic hotel the venue is perfect for those couples looking for something simple and elegant.
Here is what a previous client had to say…
Helpful, professional, prepared, and just a great vibe to work with. Thank you for your patience and support in working together to put on a show at West End." – Matthew S., West End Trading Co, Sanford Florida
Check out this video: