Small Wedding Venues Orlando
Looking for a small wedding venue in Orlando or Central Florida?  This is the ultimate list!  Our local editors have hand-picked the best event venues with spaces for small or micro wedding ceremonies and receptions.  Cozy restaurants, intricate historic buildings, beach-side outdoor spaces… Don't miss all the options below!
The University Club of Orlando
Intimate
150 E Central Blvd, Orlando, FL, USA
407-425-2514
Guest Capacity: Up To 150
The University Club of Orlando is a boutique banquet club space that offers world class cuisine form its resident Executive Chef. This private club is a newly remolded state of art clubhouse in Downtown Orlando, across from Orlando's iconic Lake Eola.
Bohemian Hotel Celebration
Ballroom
700 Bloom St, Celebration, FL 34747
407-566-6000
Guest Capacity: Up To 100
A wedding is a magical moment, and our venue blends Old Florida elegance with modern luxury to create the perfect setting. Let us orchestrate your special day in one of our lakeside ballrooms or under a starlit sky. All you have to do is say, "I do." Bohemian Hotel Celebration […]
Dr. Phillips House
Garden
135 North Lucerne Circle East, Orlando, FL, USA
407-716-5627
Guest Capacity: Up To 200
The Dr. Phillips House is a turn-of-the-century grand Victorian Mansion full of charm, elegance, and history.  Imagine yourself walking down a flower petal-lined brick path as you approach the love of your life in front of an enchanting gazebo. All of your family and friends in an intimate garden surrounded […]
Casa Feliz
Historic
656 N Park Ave, Winter Park, FL 32789
407-628-0230 Ext.1
Guest Capacity: Up To 100
WELCOME TO CASA FELIZ, the beautifully restored and award-winning Spanish Farmhouse. Elegance and romance intertwine to create the perfect place to celebrate the beginning of your lifetime journey together. Located in the heart of Winter Park, Casa Feliz can accommodate up to 120 guests. It's textures of original Spanish roof […]
Chapel & Cellar
Historic
216 West Lyman Avenue, Winter Park, FL, USA
407-759-6181
Guest Capacity: Up To 50
The Chapel & Cellar in gorgeous downtown Winter Park provides the perfect ambiance for intimate wedding ceremonies and receptions, bridal showers, outdoor cocktail parties, corporate events and more. Our charming Chapel was originally built in 1935, and we sit conveniently at the entrance of Hannibal Square. Our courtyard encompasses a […]
Palm Orlando at Hard Rock Hotel
Restaurant
5800 Universal Boulevard, Orlando, FL, USA
(407) 503-2384
Guest Capacity: Under 50
Whether your event is small and intimate or large and extravagant, you and your guests will enjoy a time-honored and unforgettable experience. From ceremony to reception, and from custom menus, bar packages and flexible floorplans to tableside ordering day of – including steak temperatures – our aim is to exceed […]
Trellis 925 Urban Loft
Event Center
7594 W Sand Lake Rd, Orlando, FL 32819
407-440-0372
Guest Capacity: Up To 150
Stylish, Flexible, and Uniquely Yours! The Urban Loft by Trellis 925 is one of the most unique and flexible spots in Orlando Florida to host your wedding. Located in Dr.Phillips, the Urban Loft is close to all the attractions and boasts a New York Style feel with gorgeous indoor backdrops […]
Hilton Garden Inn Apopka City Center
Ballroom
580 East Main Street, Apopka, FL 32703, USA
407-703-4493 x 606
Guest Capacity: Up To 75
Hilton Garden Inn Apopka City Center is located in the city of Apopka, Florida. The hotel offers stylish, contemporary and comfortable guest rooms designed uniquely to deliver maximum comfort. The hotel offers amazing amenities that are suitable for family as well as for business trips. The hotel has a beautiful […]
Dockside Lake Nona
Restaurant
13623 Sachs Avenue, Orlando, FL 32827
407-455-3435
Guest Capacity: Up To 100
Canvas and Dockside weddings honor each couple's unique vision and offer an artistic setting for you to commit to the one you love. Whether you plan to host an intimate ceremony or invite your family and friends to an elegant affair, our team is here to bring your ideas to […]
AVA MediterrAegean
Restaurant
290 South Park Avenue, Winter Park, FL, USA
407-794-9896
Guest Capacity: Up To 150
AVA MediterrAegean is a multi-sensory transporting venue bringing dining experience and pleasure together in a refined and spirited atmosphere. Meaning life, water, island, and bird in Greek, AVA is a celebration of splendor, freedom, escapism, and joy, where genuine hospitality, delectable food, and a vibrant atmosphere combine to entertain the […]
Joy by the Sea
Beach
2901 South Atlantic Avenue, New Smyrna Beach, FL, USA
386-428-0513
Guest Capacity: Up To 100
Joy by the Sea is the ultimate beachside venue, perfect for weddings, bridal showers, family vacations, family reunions, and other group events. The exclusive venue resort offers a serene atmosphere and luxury accommodations. Our experienced venue coordinator will help you create the event of your dreams. We will help ensure […]
Fogo de Chao
Intimate
8282 International Drive, Orlando, FL, USA
407-370-0711
Guest Capacity: Up To 300+
Fogo de Chao offers an elegant Brazilian dining experience with incredible service, world class Brazilian cuisine, the best event spaces, and breezy patio space in the Orlando Metro Area to accommodate groups of all sizes and needs. We are chefs born into the centuries-old Southern Brazilian grilling tradition of churrasco. […]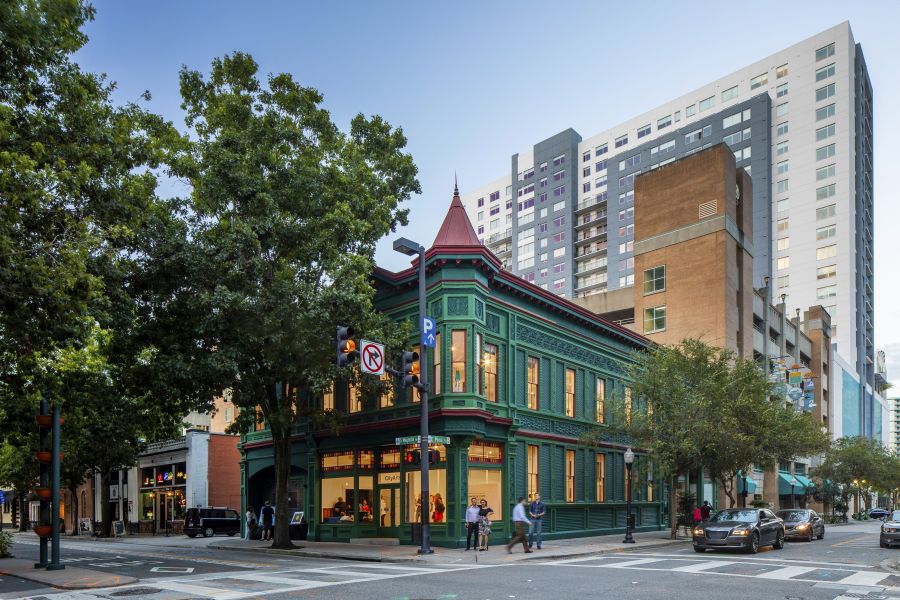 CityArts
Historic
39 South Magnolia Avenue, Orlando, FL, USA
407-648-7060
Guest Capacity: Up To 100
Please click here to view our full Event Planning Guide to learn all about our venue rental options! From vibrant and ornate to intimate and serene, CityArts Orlando is a venue that provides a unique, delightful, and inspiring experience for its visitors. Displayed on its historic walls are works of […]