Orlando Intimate Wedding Venues
Orlando's intimate wedding venues offer couples a charming and cozy setting to celebrate their special day with close family and friends. With a range of indoor and outdoor options, these venues can accommodate small and intimate weddings of up to 50 guests, making them an ideal choice for couples looking for an intimate and memorable wedding experience.
From historic chapels and beautiful gardens to luxurious private estates, Orlando's intimate wedding venues provide an ideal setting for couples to exchange their vows and create memories that will last a lifetime. Here are a few of our favorite small wedding venues in Central Florida.
The University Club of Orlando
150 E Central Blvd, Orlando, FL, USA
407-425-2514
Guest Capacity: Up To 150
The University Club of Orlando is a boutique banquet club space that offers world class cuisine form its resident Executive Chef. This private club is a newly remolded state of art clubhouse in Downtown Orlando, across from Orlando's iconic Lake Eola.
Grape & The Grain Wine Bar
1110 Virginia Drive, Orlando, FL, USA
(407) 674-6156
Guest Capacity: Up To 200
Looking for a unique venue for your next event? We host everything from birthdays to bridal showers, from weddings to graduation parties. Our laid-back atmosphere is perfect for meeting your friends to engage in sparkling conversations as you unwind, sip and savor. We first opened our doors on May 11, […]
Imperial 55 Event Center
1335 Howell Branch Rd, Winter Park, FL, USA
407-743-5333
Guest Capacity: Up To 100
Imperial 55 is an intimate venue located in Winter Park, Florida. Our venue offers a clean, modern, flexible event space where you can celebrate your most memorable moments with family and friends. Our elegant white décor allows any theme to be incorporated with ease. Our 4 packages provide a variety […]
Central Florida Zoo & Botanical Gardens
3755 W Seminole Blvd, Sanford, FL, USA
407-323-4450 ext.136
Guest Capacity: Up To 200
The Central Florida Zoo & Botanical Gardens is the perfect venue to add a unique experience for your wedding. Located closely to Downtown Sanford, FL, we're just minutes away from local shops, nightlife, and hotel accommodations. Our Wayne M. Densch Discovery Center offers both indoor and outdoor spaces for ceremonies […]
Celebration Gardens Orlando
1871 Minnesota Ave, Winter Park, FL 32789
407-960-2853
Guest Capacity: Up To 200
Celebration Gardens is an intimate outdoor wedding venue in Winter Park that offers romantic and natural settings for couples in the Orlando, Florida area. With elegant gardens full of lush foliage and stunning flowers, this historic park will leave your guests in awe. After all, there is nothing better than […]
Casa Feliz
656 N Park Ave, Winter Park, FL 32789
407-628-0230 Ext.1
Guest Capacity: Up To 100
WELCOME TO CASA FELIZ, the beautifully restored and award-winning Spanish Farmhouse. Elegance and romance intertwine to create the perfect place to celebrate the beginning of your lifetime journey together. Located in the heart of Winter Park, Casa Feliz can accommodate up to 120 guests. It's textures of original Spanish roof […]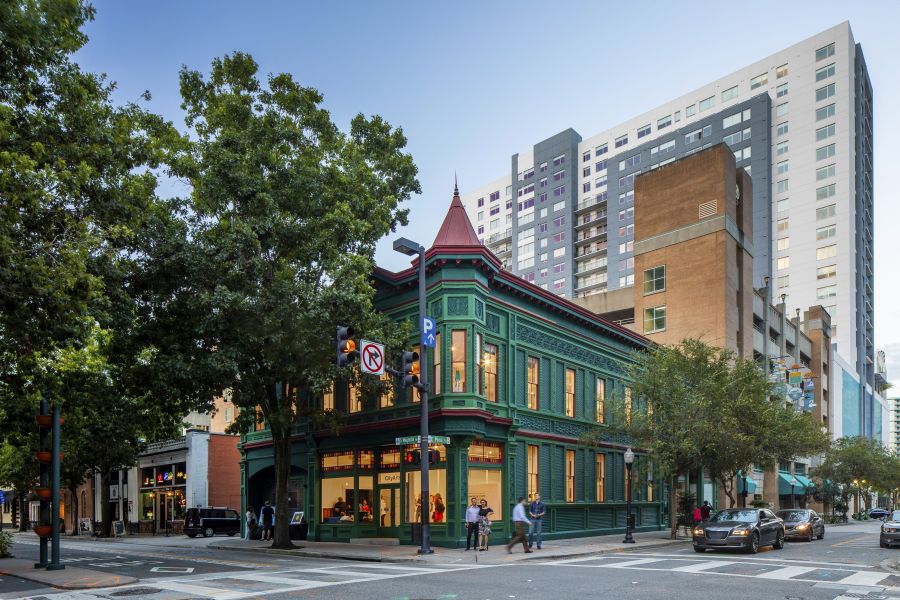 CityArts
39 South Magnolia Avenue, Orlando, FL, USA
407-648-7060
Guest Capacity: Up To 100
Please click here to view our full Event Planning Guide to learn all about our venue rental options! From vibrant and ornate to intimate and serene, CityArts Orlando is a venue that provides a unique, delightful, and inspiring experience for its visitors. Displayed on its historic walls are works of […]
Embassy Suites by Hilton Orlando Downtown
191 E Pine St, Orlando, FL 32801
407-835-6841
Guest Capacity: Up To 200
If you are looking for an affordable, elegant, and fun venue for your special day, the Embassy Suites Orlando Downtown Hotel is a great option. Centrally located in the heart of downtown and across the street from Lake Eola, we can accommodate 10 to 200 guests for dinner, brunch, cocktail […]
Zoe Events
8865 Commodity Cir #8, Orlando, FL 32819
407-613-5957
Guest Capacity: Up To 100
Welcome to Zoe Events, featuring elegance combined with comfort for your party, wedding or any other special event. We believe and are confident that the most important part of your event is that you receive excellent service at a price that is affordable and that the elegance and quality will […]
Trellis 925 Urban Loft
7594 W Sand Lake Rd, Orlando, FL 32819
407-440-0372
Guest Capacity: Up To 150
Stylish, Flexible, and Uniquely Yours! The Urban Loft by Trellis 925 is one of the most unique and flexible spots in Orlando Florida to host your wedding. Located in Dr.Phillips, the Urban Loft is close to all the attractions and boasts a New York Style feel with gorgeous indoor backdrops […]
THE 1883 Historic Venue
425 Citrus Avenue, Eustis, FL, USA
407-256-0113
Guest Capacity: Up To 100
Richly beautiful and uniquely enchanting, THE 1883 Venue is truly a hidden Florida treasure. Located in the heart of historic Eustis, THE 1883 has served as a chapel and gathering place for generations of families and friends alike for over 100 years. Today, curated furniture and art highlight the original […]
Heathrow Country Club
1200 Bridgewater Dr, Lake Mary, FL 32746, USA
407-562-0172
Guest Capacity: Up To 250
Heathrow Country Club has been hosting world-renowned events for over 30 years. We pride ourselves on our marvelous grounds, exceptional culinary selections, and five-star service. Conveniently located in North Orlando in the prestigious Heathrow area, we also cater to nearby cities from Lake Mary, Debary, Deland, Daytona, Winter Park, Winter […]
Fogo de Chao
8282 International Drive, Orlando, FL, USA
407-370-0711
Guest Capacity: Up To 300+
Fogo de Chao offers an elegant Brazilian dining experience with incredible service, world class Brazilian cuisine, the best event spaces, and breezy patio space in the Orlando Metro Area to accommodate groups of all sizes and needs. We are chefs born into the centuries-old Southern Brazilian grilling tradition of churrasco. […]
Chapel & Cellar
216 West Lyman Avenue, Winter Park, FL, USA
407-759-6181
Guest Capacity: Up To 50
The Chapel & Cellar in gorgeous downtown Winter Park provides the perfect ambiance for intimate wedding ceremonies and receptions, bridal showers, outdoor cocktail parties, corporate events and more. Our charming Chapel was originally built in 1935, and we sit conveniently at the entrance of Hannibal Square. Our courtyard encompasses a […]