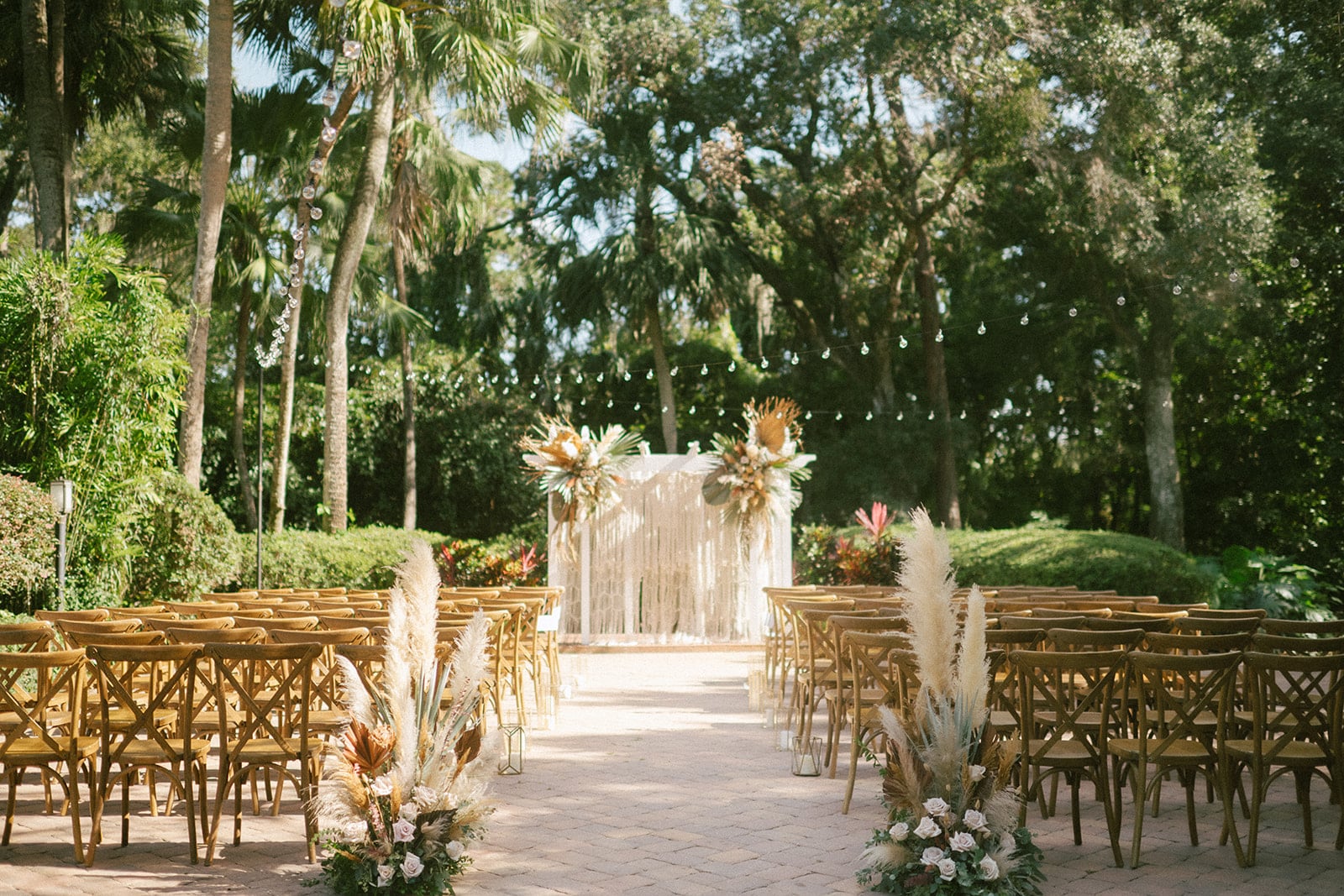 The Garden Villa, located in Florida's beautiful Winter Park, includes a modern exhibition garden on stunning historic grounds. Boasting both intimate indoor and large-scale outdoor gathering spaces, The Garden Villa is the ideal setting for unique private celebrations, exceptional weddings, and memorable corporate events.
The Garden Villa at Florida Federation of Garden Clubs features a banquet hall, delicious and elegantly-presented food, courteous service, spectacular gardens, and a relaxing ambiance. We have a maximum capacity of 125. We offer customizable packages for you to choose from.
Our services include:
– CATERING OPTIONS: ​Our chefs from Cocktails Catering provide everything from early morning breakfast to casual lunches and elegant, full-service dinners. Our friendly coordinators will help guide you in designing a menu your guests will never forget!
– EVENT RENTALS: We offer clients the latest in rentals with our décor packages. Our affordable packages from Go To Event Rentals allow clients to completely personalize a table design by working hand in hand with our professional designers.
– EVENT COORDINATORS: Our experienced event coordinators are here to help you through the logistics of your event, from start to finish. Our wedding coordinators and events planners consider every detail to make your day nothing less than perfect!
AMENITIES & DETAILS
Ceremony & Reception
Ceremony Only
Ceremony Indoor
Ceremony Outdoor
Reception Only
Reception Indoor
Indoor Event Air Conditioned
Reception Uncovered Outdoor
Get Ready Rooms Included
Catering - Required List
Bar - Required List
Liability Insurance Required
Handicap Friendly
Outside Wedding Cake Allowed
Outside Vendors Allowed
Pet Friendly
Indoor Rain Backup Available
Free Parking
Host Rehearsal Dinners
Host Bridal Showers
Noise Ordinance
Max Capacity : 100
Category : Elopement, Event Center, Garden
Cost : $$ - Average
VIDEOS
Faqs
What is the average price range for venue rental?
What is included in that cost?
Does the venue provide catering and bar service? If so, what is the average cost per person?
What other types of events does the venue host?
View More Package Info For The Garden Villa
The Garden Villa Reviews
Share your thoughts with other couples
Write A Review