The wedding industry is a community of people, co-workers, and companies that come together to connect. This hot cocoa and cookie party was the first Wedding Venue Map event for our members to build stronger relationships and get to know each other. This central Florida wedding networking event at Club Lake included wedding vendors from every category. It also provided the opportunity for a few of our members to sponsor the event and showcase their unique services.
Hi there, I'm Shannon, the co-founder of Wedding Venue Map. I'm excited to share all about our amazing Central Florida wedding networking event from December 2020!
Thank you to SugarPop Productions for capturing the photos and creating a video to save the memories from our very first Wedding Venue Map holiday party.
First and foremost was the venue, Club Lake. With beautiful grounds and an epic indoor space, they were the most amazing hosts. Driving on the grounds, you feel like you are whisked away onto a private estate.  Their venue includes so many amazing touches including outdoor chandeliers, an oak canopy ceremony lawn, their signature whiskey rover saloon, a new outdoor fireplace focal point, and of course, the barn for receptions. This is where we held our event.
Our team selected Club Lake for the ability to hold an indoor event that offered the openness of the outdoors. By opening up the massive doors, it allowed our guests to flow inside and outside and feel great airflow and expanded event space.
An epic event space enhanced by these gorgeous linens by Connie Dugling Linen. The holiday plaid comes in overlays, runners and napkins. The grass shantung was the perfect holiday green.
Nothing says holiday fun like cookies and hot cocoa! The team at Foodie Catering agreed. They provided an epic spread for this morning Central Florida wedding networking event including homemade cookies, muffins, slices of breakfast breads, sweet treats, and my personal favorite, macarons. Let's not even begin to talk about how many of those I snacked on. When I shared that the design was red and green, Foodie joined in providing these unique nutcrackers to stand guard on the buffet. They even staffed the buffet to help guests enjoy the treats without having to touch anything.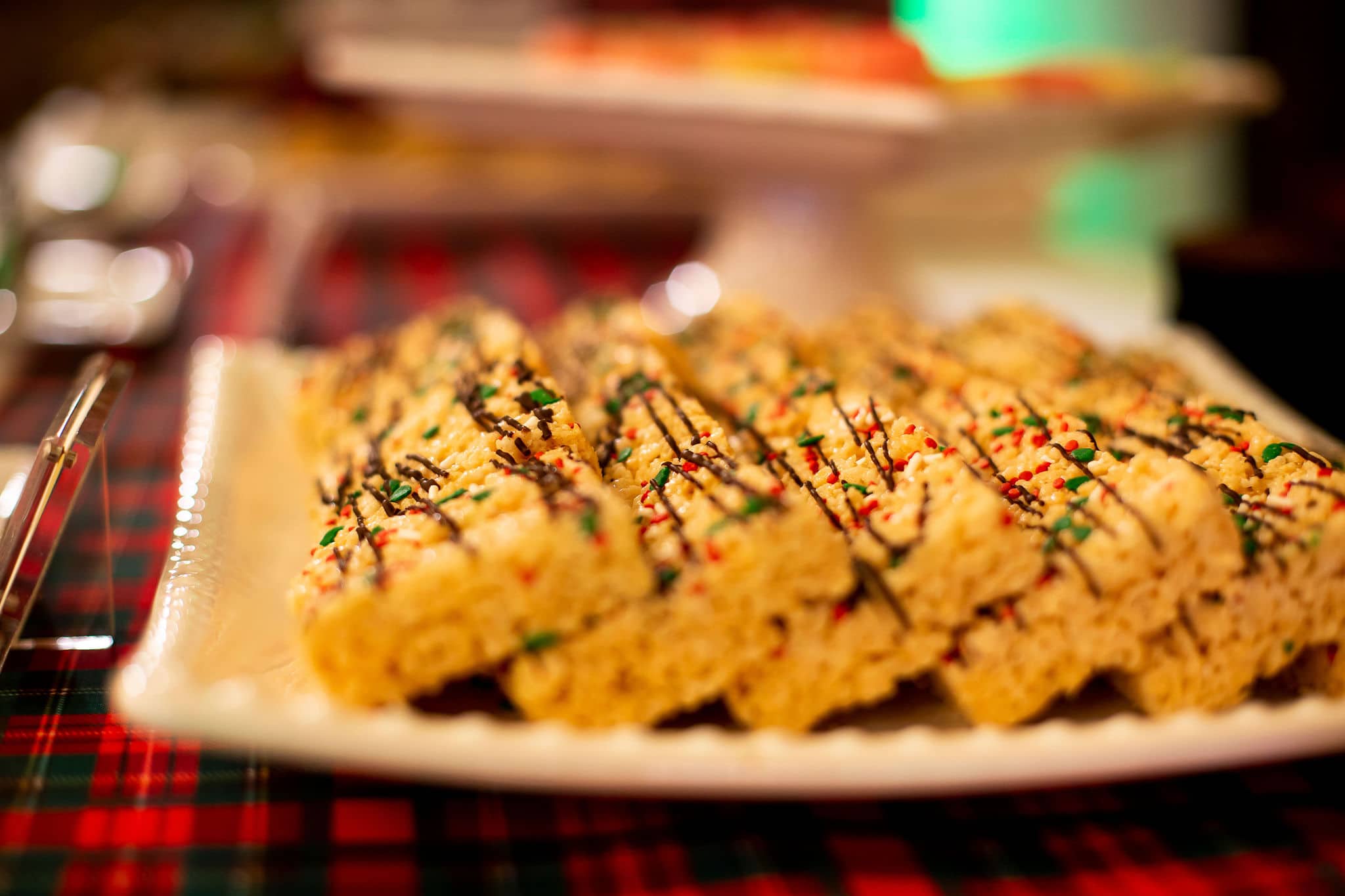 Besides the delicious treats, coffee and hot cocoa were a must for this chilly Florida morning. The best part about hot cocoa is the toppings. But how do you put out toppings other than big bowls? Foodie Catering came to the rescue with individually packaged marshmallows, chocolate chips and candy canes. Hot cocoa bars are one of my personal favorites at any winter event and those little cups of sweetness just warmed us all right up!
I love arts and crafts. There, I said it. I believe in fun and creative favors for events when it is something you can use or something you can eat. This was a perfect opportunity for us to find a fun idea that we could use as a team-building activity. We turned to Pinterest of course for all the ideas! Haley, our Wedding Venue Map account manager, and I spent the Saturday before the party creating these adorable hot cocoa reindeer bags.
A party isn't complete without some games. We invited everyone who came to our Central Florida wedding networking event to dress in festive attire. We invited everyone who came to vote!
COVID Event Tip: When using pens at an event, it's important to clean them in between uses. We had a cup for cleaned and a cup for used pens so everyone knew they were safe and disinfected.
Some of our top contenders for the most festive award included the sumo Santa sweater, Mrs. Clause and the Christmas Story Bunny. Keep reading to find out who won!
Relationships run deep with wedding professionals. In-person wedding networking events like this one allow those people with a well-established relationship to catch up and others to make new connections.
Networking Tips for Wedding Pros
always wear a nametag – whether you bring your own or use the ones provided at the event, it's easier to connect (especially wearing masks) when we know who we are chatting with
don't forget your business cards – even when it feels like a party, you never know when a new meet could lead to new relationships
get to know 3 new people – while it's fun to say hi to our wedding pro friendors, an easy goal is 3 new connections for every networking event you attend
I knew that an epic holiday event would need the perfect vibe and Andy from Xlcusive Deejays knew just what we needed. He created a playlist of classic holiday favorites with new tunes to get you in the spirit of giving. All of the music choices were upbeat and the perfect volume to create a great ambiance but allow everyone to continue chatting.
I believe that every event should have a photobooth! When the team at SugarPop Productions started telling me about their newest booth, the gifypop roamer, I knew it would be perfect for our networking event! This booth travels around and comes to you rather than you going to the booth. We had a custom overlay just for our event and they did an amazing job of cleaning the touch screen in between each use!
We added a fun Spin to Win element for everyone who took their photo could spin the booth wheel to win a prize.
A holiday party is a perfect time to give out surprises. Gift giving is definitely my love language. I had the most fun shopping for ways to show how grateful we are for all of our Wedding Venue Map members.
Our most festive award winner, The Ginger Officiant! That bunny suit not only kept her warm but showcased her fun personality.
Pulling business cards out of a bowl just wasn't enough excitement! We created a punch board for the winner to pop and see what they one. Prizes included candles, coffee cups, restaurant gift certificates, free advertising, and so much more!
At the end of every year, we take the time to be grateful for every single business, company, and wedding pro that invests in their partnership with Wedding Venue Map. This was just the first of many events for our members to connect with each other including quarterly coffee connections at Percolate and Navigate and new map release events every January and July called Sip, See & Celebrate.
For more information about joining Wedding Venue Map, book a time to chat HERE!
Thank you to all of our incredible sponsors!
Venue: Club Lake Plantation; @clublakeweddingvenue
Videography/Photography/Roaming Photo Booth: SugarPop Productions; @sugarpoppros
Sweet Treats & Hot Cocoa Bar: Foodie Catering; @foodiecatering
DJ & Music: Xclusive Deejays; @xclusivedeejays
Linens: Connie Duglin Linen; @cdlinen
Giveaway Item Sponsor: TheXpos; @thexposflorida