The client hired us for wedding day pet care for their adorable rescue dog, Bear. The Bride was nervous because he can be a little weird with strangers, so we set up an in-person meet and greet a couple of weeks prior to the wedding. She couldn't believe how much he immediately took to us, and gave us his ring bearer pillow for the big day. They hired us for our 4-hour package on the day of their wedding, and even hired us to come to their rehearsal the night prior so Bear could get comfortable and practice!
Why did they want to have their dog at the wedding? 
The plan was that he was their Ring "Bear" er and would be walking down the aisle. We would be providing round trip transportation to and from his boarding facility in Westchase to the wedding on Clearwater Beach. When we arrived on the wedding day, we would get some exercise and help include him in the ceremony and their formal photos after, before taking him back to the boarding facility. In the planning process, we gave ourselves about 2 hours of travel time to the venue to account for usual beach traffic.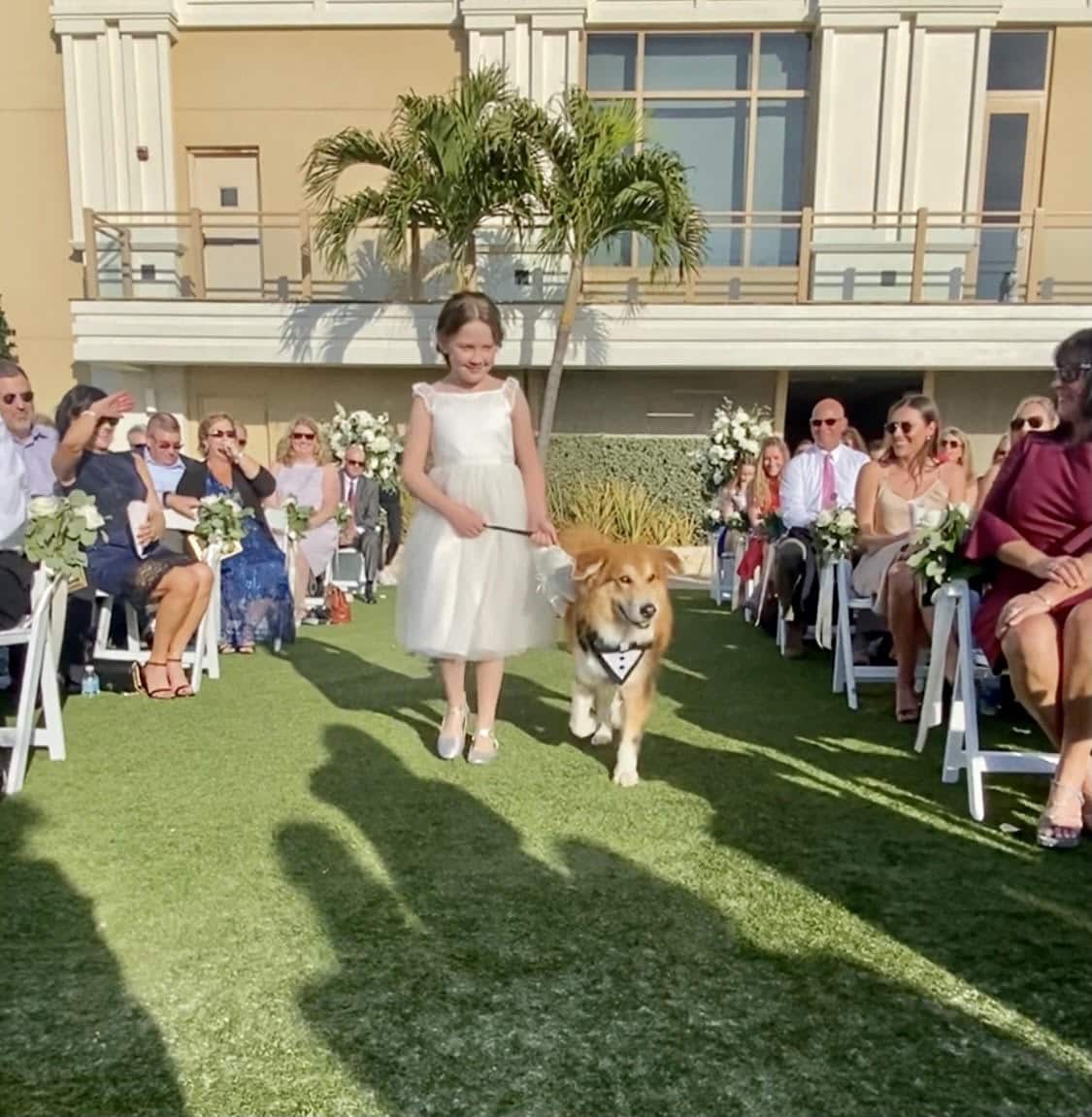 What does bringing the dog to the wedding usually entail from start to finish in the package they chose? 
We base our packages on hours of care, so with the 4-hour package, this typically entails all of the logistics of including your dog in the ceremony. That means: Round trip transportation, coordination with their vendors, our doggy tuxedo bandana + black leash + black harness rental, helping include their pup in the ceremony + helping them pose for photos, and then taking them back home or to their boarding facility. We will then feed the dog dinner + let them out again for one more potty break before tucking them in and heading out!
What kind of dog was it and what was his/her name?
He is a rescue dog named Bear! They did do a DNA test and he is actually a Great Pyrenees/German Shepherd/Chow mix.
Where did you pick the pup up at? 
Share more about what happened to get that dog to the wedding. 
I chose to pick Bear up about an hour earlier than the client had hired us and paid for because I saw traffic looked especially bad that day and didn't want to take any chances. All was looking good until we got closer to the bridge, and I watched in horror as my GPS kept adding time to the route by the HOUR.
Did you start to panic when you saw the traffic wasn't moving? 
As we got closer and closer to the bridge, we realized we were at a total standstill. Growing up here and being super familiar with the side streets, I tried cutting through some smaller roads and found myself continuously getting stuck. There were accidents everywhere and with all the four-way stops and street lights, I was finding it impossible to even get ON the bridge in the first place. When I sat at one light, totally blocked in, for almost 20 minutes without moving is when I really started to panic. I checked my GPS again and saw it had gone from us being one hour early, to being one hour LATE.
At what point did you decide to just park the car and run? 
At that moment, I realized I had a choice to make. On the crazy chance, I could even get ON the bridge at this point, if it continued to move like this (aka NOT moving at all) I could get literally stuck on the bridge and have no options. You can't turn around until you get all the way to the other side. I saw some people biking over the bridge and thought, how far is it.. really? So I canceled my trip on GPS and checked to see how far it would be to walk.
Google maps said about 3 miles, which would equate to a one-hour walk. If I drove it instead, GPS anticipated a 3 hour travel time. At this point, we were about 1 hour out from ceremony time. and I felt as though I really only had one option. If GPS thought it would take an hour to walk, but we ran/power walked/jogged the entire thing & Bear was up for it – we could make it in time. I turned around as fast as I could, found metered street parking by the courthouse, grabbed all of mine and Bear's things (and plenty of water) and we just started running!
How did the couple react when you came in from the run? 
I didn't want to freak them out or make them worry that we wouldn't make it in time (once we made the choice to run, I knew we would make it one way or another since I had committed already) so they didn't find out until we arrived. Even then, they didn't understand the severity of the situation until the next day. My main concern aside from getting him there in time was not having him overheat. So while I knew he needed some exercise, I wanted to push through as fast as we could so he could also have some downtime to relax in the AC, even if for only a few minutes, prior to the ceremony.
Since we ran/jogged/power walked the entire way (& due to the awful traffic the planner pushed the ceremony about 20 minutes) we had about 30 minutes to spare. So the Bride didn't really know we were late, since normally we are off exploring and getting exercise at this time, and he was only going to be included in the photos after the ceremony, not before. When we walked into the Bridal Suite, the Bride saw Bear and started crying immediately because she was so happy to see him. They got some amazing photos at this point, right before the ceremony began, then we gave Bear some water & treats while he relaxed in the AC on the cool floor for 20 minutes. When the couple saw the video the next day and realized what we did, they text us immediately thanking us and saying how incredible it was to see Bear's adventure and how grateful they were.
Not every company goes above and beyond to make it happen like Fairytail Pet Care. What kinds of questions should a couple ask when interviewing wedding pet sitters? 
Thank you! Making sure that the company is licensed, bonded & insured is step one. Finding out how long they have been in business, and if they have worked with your venue and/or vendors before. There are so many great pet care companies out there, but Wedding Day Pet Care is a totally different service. You want to make sure your pet care provider has experience working with dogs at weddings and is familiar with the area you'll be getting married in. Ask them what they bring along on the day of in case of emergencies (we have literally everything – tons of water, a cooling mat in our car, pet-friendly baby wipes, lint rollers, a pet first aid kid with any supplies your pet could possibly need, etc.)
Having experience as event planners prior to starting this business was so helpful because, yes, we LOVE your dog like they're our own, but we also understand the ins and outs of the wedding planning process and all of the logistics that go into including your pet on such an important day! Another important thing to notice is how they give back to the local community. We donate a portion of all of our wedding proceeds to local animal shelters, volunteer regularly, and have tons of programs in place to help our community's homeless animals. While of course, this is a great initiative for a company to have in general, it also shows that the company has experience working with all kinds of animals from all walks of life and that you can feel good about where your money is going.

Review from the bride, Morgan about having her dog at the wedding: 
FairyTail Pet care truly made all my wedding day dreams come true! They couldn't be named more appropriately! Bear has been such an incredible and special pup since the day we adopted him and we knew we had to have him at our wedding. I remember Sandpearl highly recommending FairyTail and instantly reached out to the team. We had a meet and greet with Ilana before the wedding and she instantly made a connection with Bear and me which put me at ease right away since he doesn't always connect with people that he is not used to. I trusted her to take great care of him after that! NOW we get to the wedding day.

I had absolutely no idea about Bear and Ilana's adventure to make it to the ceremony. I was very overwhelmed because even though no one was explaining to me how bad the traffic was I knew the ceremony was being delayed. As soon as I saw Bear prance in the room I broke down crying because I knew everything was going to be ok!! All the videos and seeing Bear's story captured was just the icing on the cake! He is such a good boy that we are so lucky to have! We can't thank Ilana and the FairyTail pet care team enough for giving Bear the adventure of a lifetime and getting him to be a part of our wedding day!!