Event Centers in Orlando & Central Florida
Orlando and Central Florida boast an array of event centers that provide versatile spaces and state-of-the-art facilities to host weddings and other special events. From grand ballrooms and elegant banquet halls to modern and trendy venues, event centers can accommodate weddings of any size and style.

Many event centers also offer comprehensive event planning services and customizable packages, making it easy for couples to tailor their celebration to their unique vision and needs. Here is a list of the best event centers in Central Florida.
The Wellvue
2005 Mizell Ave, Winter Park, FL 32792, USA
407-289-1254
Guest Capacity: Up To 300+
Welcome to the Wellvue, the Private Events venue spaces at the Center for Health & Wellbeing in Winter Park. Enter our doors to discover wholeness, fitness, and medicine coming together to help you achieve optimal whole-person health. A collaboration between the Winter Park Health Foundation and AdventHealth—this 80,000-square foot, state-of-the-art […]
Hidden Barn Venue
4251 Ondich Rd, Apopka, FL 32712
877-549-3931
Guest Capacity: Up To 150
The Hidden Barn Venue … the Disneyland of rustic wedding venues. 😁 2 ceremony options, 2 cocktail hour options, fire station, town, pool, bridal suite, garden, saloon and more. A must see venue in the Central Florida area.
JoJo's Glitz & Glam Event Planning
495 N Semoran Blvd #9, Winter Park, FL, USA
321-655-9910
Guest Capacity: Up To 100
JoJo's Glitz & Glam Event Planning is a 6,000-square-foot all-inclusive wedding venue, offering venue space for both your wedding and reception. Our venue is beautifully glammed up with decorated ceiling drapes, crystal chandeliers, elegant furnishings and décor, and wall drapes. Both the ceremony room and the ballroom have stages. Our […]
Winter Park Events Center
1050 W Morse Blvd, Winter Park, FL, USA
407-599-3571
Guest Capacity: Up To 300
Winter Park Events Center is a wedding venue located in Winter Park, Florida. Situated in the state's central region, this establishment reflects the town's historic atmosphere and modern architecture and design. Designed by the renowned architect Sir David Adjaye, its distinct appearance sets the stage for a one-of-a-kind event. The […]
Diamond L Venue
3530 Lefils Ln, Deltona, FL 32738
386-747-8814
Guest Capacity: Up To 150
Welcome to the Diamond L Venue in Volusia County Florida. This air-conditioned barn venue is located on a working 3,000-acre cattle ranch near Deltona. The 3,000 square foot red barn is filled with wood cut from around the ranch. It has seating and tables available for 140 people. There are […]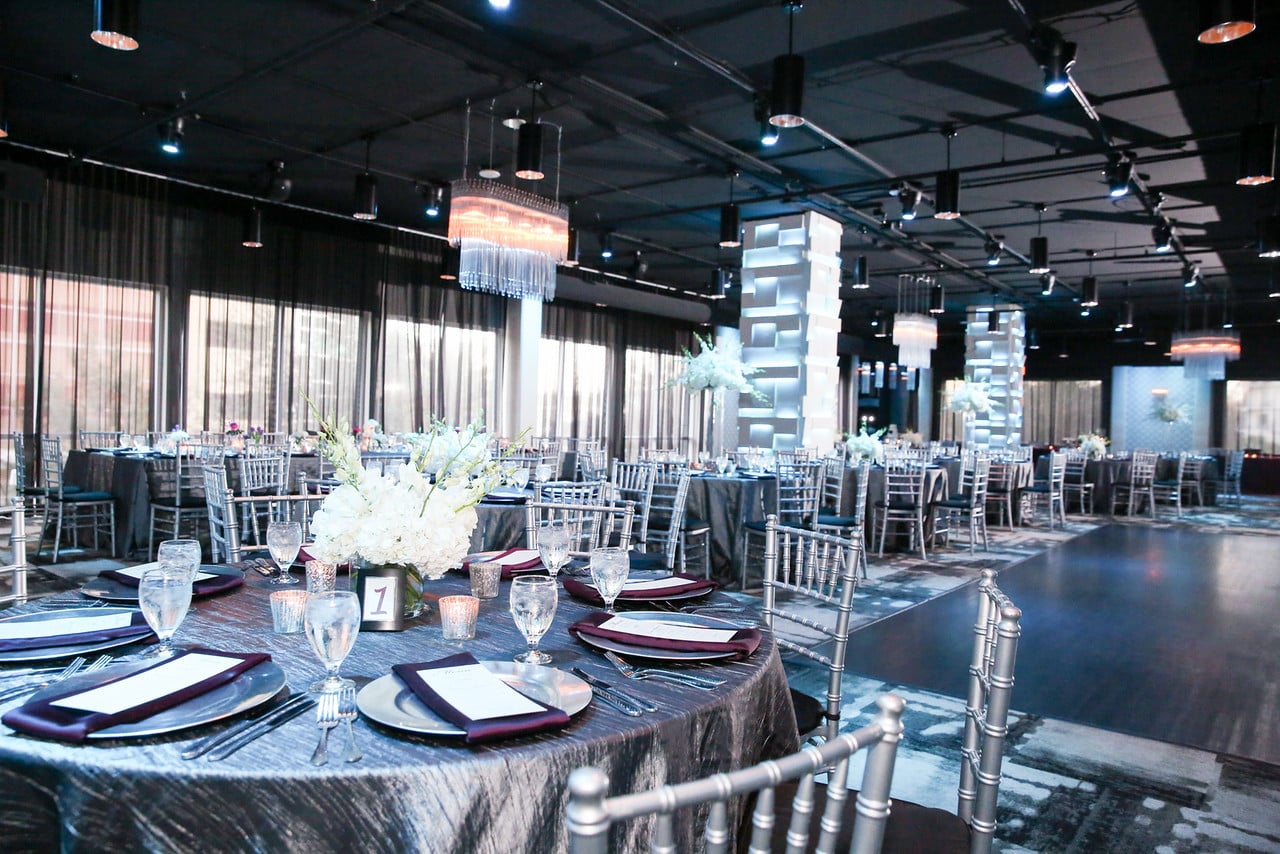 The MEZZ
100 S Eola Dr #200, Orlando, FL, USA
407-833-6104
Guest Capacity: Up To 300
On the second floor of the Sanctuary high-rise in Downtown Orlando, The MEZZ is a favored event space for a number of momentous occasions. Featuring an expansive 7,000 square foot space- The MEZZ boasts floor-to-ceiling windows and exclusive modern art décor. Innovative LED lights and a state-of-the-art sound system leave […]
The Warbird Air Museum
6600 Tico Rd, Titusville, FL, USA
321-351-4047
Guest Capacity: Up To 300+
Be part of history and celebrate your nuptials at The Warbird Air Museum! With over 94,000 sq ft of space across our three hangars and spacious tarmac, prepare to be amazed by vintage aircraft and exclusive memorabilia. Both on-site hangars have sky-high ceilings, a spacious and open layout, and glossy […]
Tavares Pavilion on the Lake
200 S. Disston Avenue, Tavares, FL 32778
352-253-4300
Guest Capacity: Up To 150
The Tavares Pavilion on the Lake, located in downtown Wooten Park, is an 8,000-square-foot event facility that is located over the water at the end of a 40-foot-wide by 150-foot-long, brick-paved pier with ornamental railing and gas lamps lighting the way. The interior has an island retreat type of vibe […]
Balmoral Event Center
116 Kenny Blvd, Haines City, FL, USA
866-584-5527
Guest Capacity: Up To 150
Exchange nuptials under the warm Florida sun and say "yes" to forever at Balmoral Event Center's brand new wedding venue. Our expert event team is determined to provide everything you need in order to help make your special day all that you've ever dreamed of. Rest assured that all the […]
Idlewood
150 North Idlewood Ave Bartow, FL 33830
863-899-7984
Guest Capacity: Up To 300+
A fully renovated wedding and event venue located in Bartow, FL. Formerly known as Peace River County Club, this venue is situated on 7+ acres with a bar & lounge, gathering areas, and your guests will be in awe when they attend an event.
Canvas Event Venue
1401 Florida Mall Ave, Orlando, FL, USA
407-305-5199
Guest Capacity: Up To 300+
Canvas was born out of inspiration to fill a void in the Central Florida market. Canvas allows our clients to curate their experience with an existing foundation of amenities. Our event-specific amenities include private suites, an outdoor terrace, spatial catering prep area, and built-in A/V. Canvas gives designers and clients […]
Ocoee Lakeshore Center
125 N Lakeshore Dr, Ocoee, FL 34761
407-877-5803
Guest Capacity: Up To 300+
Thank you for considering the Ocoee Lakeshore Center for your upcoming event. We have space for all of life's special occasions. Our expanded facility, state-of-the-art audio visual equipment, commercial kitchen, dressing suites, and great amenities make us the perfect place to hold your wedding, corporate event, Sweet 16, quinceañera, class […]
The BEV - Barney E. Veal Event Center
700 Generation Point, Kissimmee, FL, USA
407-483-1495
Guest Capacity: Up To 300+
The BEV (Barney E. Veal) Center is the perfect wedding setting for your once in a lifetime special day. Intimate weddings can be held in one of our four private spaces. The event center is also designed for those who have larger weddings in mind while hosting up to 450 […]
Brannon Center
105 South Riverside Drive, New Smyrna Beach, FL, USA
386-410-2880
Guest Capacity: Up To 300+
The Brannon Center is the premier wedding venue located in historic New Smyrna Beach overlooking the Intracoastal Waterway. The Center provides an ideal site to say "I do." From its ideal New Smyrna Beach location, it features stunning views of the Indian River, a large outdoor terrace, proximity to historical […]
Zoe Events
8865 Commodity Cir #8, Orlando, FL 32819
407-613-5957
Guest Capacity: Up To 100
Welcome to Zoe Events, featuring elegance combined with comfort for your party, wedding or any other special event. We believe and are confident that the most important part of your event is that you receive excellent service at a price that is affordable and that the elegance and quality will […]
Trellis 925 Urban Loft
7594 W Sand Lake Rd, Orlando, FL 32819
407-440-0372
Guest Capacity: Up To 150
Stylish, Flexible, and Uniquely Yours! The Urban Loft by Trellis 925 is one of the most unique and flexible spots in Orlando Florida to host your wedding. Located in Dr.Phillips, the Urban Loft is close to all the attractions and boasts a New York Style feel with gorgeous indoor backdrops […]
Imperial 55 Event Center
1335 Howell Branch Rd, Winter Park, FL, USA
407-743-5333
Guest Capacity: Up To 100
Imperial 55 is an intimate venue located in Winter Park, Florida. Our venue offers a clean, modern, flexible event space where you can celebrate your most memorable moments with family and friends. Our elegant white décor allows any theme to be incorporated with ease. Our 4 packages provide a variety […]