Historic Wedding Venues in Orlando & Central Florida
Central Florida is home to numerous historic wedding venues that offer a unique and charming setting for couples looking to celebrate their special day. From elegant ballrooms in restored historic buildings to intimate ceremonies in vintage chapels, these venues provide a blend of rich history and timeless beauty.
With a variety of architectural styles and designs, historic wedding venues can cater to different wedding sizes and styles, making them an excellent option for couples looking to add a touch of vintage elegance to their wedding day. Here is a list of our favorite historic wedding venues in Orlando and Central Florida.
Pioneer Village at Shingle Creek
2491 Babb Rd, Kissimmee, FL 34746
407-396-8644 x2
Guest Capacity: Up To 300
Osceola History offers a charming, rustic, and historic wedding venue. Pioneer Village at Shingle Creek is located on 10 acres including a nature preserve, century-old trees draped in Spanish moss, and historic buildings. This vintage, country, and shabby-chic setting lends itself well to traditional Southern weddings. Couples can host their […]
Dr. Phillips House
135 North Lucerne Circle East, Orlando, FL, USA
407-716-5627
Guest Capacity: Up To 200
The Dr. Phillips House is a turn-of-the-century grand Victorian Mansion full of charm, elegance, and history.  Imagine yourself walking down a flower petal-lined brick path as you approach the love of your life in front of an enchanting gazebo. All of your family and friends in an intimate garden surrounded […]
Historic Dubsdread Ballroom
549 W Par St, Orlando, FL 32804
407-650-9558
Guest Capacity: Up To 200
The rustic charm and vintage elegance of Historic Dubsdread Ballroom come together to create the perfect event venue exclusively available through Dubsdread Catering. Come visit us and find yourself surrounded by majestic hundred-year-old oak trees and the manicured greens of the legendary Dubsdread Golf Course, which provide a stunning backdrop […]
Ocoee Lakeshore Center
125 N Lakeshore Dr, Ocoee, FL 34761
407-877-5803
Guest Capacity: Up To 300+
Thank you for considering the Ocoee Lakeshore Center for your upcoming event. We have space for all of life's special occasions. Our expanded facility, state-of-the-art audio visual equipment, commercial kitchen, dressing suites, and great amenities make us the perfect place to hold your wedding, corporate event, Sweet 16, quinceañera, class […]
Celebration Gardens Orlando
1871 Minnesota Ave, Winter Park, FL 32789
407-960-2853
Guest Capacity: Up To 200
Celebration Gardens is an intimate outdoor wedding venue in Winter Park that offers romantic and natural settings for couples in the Orlando, Florida area. With elegant gardens full of lush foliage and stunning flowers, this historic park will leave your guests in awe. After all, there is nothing better than […]
Haus 820
820 North Massachusetts Avenue, Lakeland, FL, USA
888-428-7820 ext. 0
Guest Capacity: Up To 300
Haus 820 is one of the first fully renovated historic warehouses in Central Florida to be turned into an event venue. Built in 1924 as an A&P grocery store and then converted into a furniture warehouse, the building has been restored to feature its original wall-to-wall white brick, 17-foot exposed […]
Casa Feliz
656 N Park Ave, Winter Park, FL 32789
407-628-0230 Ext.1
Guest Capacity: Up To 100
WELCOME TO CASA FELIZ, the beautifully restored and award-winning Spanish Farmhouse. Elegance and romance intertwine to create the perfect place to celebrate the beginning of your lifetime journey together. Located in the heart of Winter Park, Casa Feliz can accommodate up to 120 guests. It's textures of original Spanish roof […]
The Treasury on the Plaza
24 Cathedral Place, St. Augustine, FL, USA
904-217-0077
Guest Capacity: Up To 200
Are you looking for a jaw-dropping indoor wedding venue (Hello Florida heat and rain!) with unique features and incredible service? The Treasury on the Plaza is a hidden gem in the heart of St. Augustine, Florida's charming downtown historic district. It originally opened as a bank in the 1920s–a shining […]
La Cita Country Club
777 Country Club Drive, Titusville, FL, USA
321-360-9337
Guest Capacity: Up To 100
La Cita Country Club's beautiful clubhouse is the most spectacular venue conveniently located in the heart of the Space Coast. From the bow tie service to our eclectic culinary team, we can coordinate the wedding you and your loved ones will never forget! Our picturesque golf club venue is ideal […]
1908 Grand
215 North Main Street, Gainesville, FL, USA
352-373-1908
Guest Capacity: Up To 200
On September 9, 1908, the cornerstone for this beautiful building was laid to serve as Gainesville's Masonic Lodge No. 41 and was said to be a holiday for the whole city. On April 14, 1909, the first meeting was held in this Lodge and the Freemasons called it home from […]
Events at The Grand Ol' Barn
721 Palmetto Street, New Smyrna Beach, FL, USA
386-232-8728
Guest Capacity: Up To 250
The Grand Ol' Barn is one of the last standing vintage citrus packing barns left on the east coast and it has been transformed to host unforgettable events. Our roots run deep and our soul runs deeper. Experience our legendary sweet tea bars, floral crown bars, gorgeous included decor, whiskey […]
Historic Venue 1902
301 W 7th St, Sanford, FL 32771
407-986-8600
Guest Capacity: Up To 200
Your love story continues at Historic Venue 1902! Write the next chapter of your book at Central Florida's premier wedding venue. From an intimate and romantic outdoor garden to a breathtaking auditorium, our luxurious atmosphere will turn your dream wedding vision into a Pinterest-worthy reality! Picturesque ceremony and reception sites […]
THE 1883 Historic Venue
425 Citrus Avenue, Eustis, FL, USA
407-256-0113
Guest Capacity: Up To 100
Richly beautiful and uniquely enchanting, THE 1883 Venue is truly a hidden Florida treasure. Located in the heart of historic Eustis, THE 1883 has served as a chapel and gathering place for generations of families and friends alike for over 100 years. Today, curated furniture and art highlight the original […]
The Highland Manor
604 E Main St, Apopka, FL 32703
407-650-9558
Guest Capacity: Up To 250
Nestled on secluded grounds in Apopka, The Highland Manor is surrounded by ancient oaks and steeped in 110 years of history. Once a grand private home, the Apopka landmark has become one of Central Florida's premier event venues exclusively available through Dubsdread Catering. Come visit us and find yourself on […]
Estate on the Halifax
5123 S Ridgewood Ave, Port Orange, FL, USA
386-763-2285
Guest Capacity: Up To 200
We are a 10.5 acre private estate located along the Halifax River in Port Orange, FL we offer breathtaking photography options amongst our historic property with lush gardens and unique structures including an 1897 Chapel, 1946 train car and our bridal suite which is a 1913 built 3br 4 ba […]
Chapel & Cellar
216 West Lyman Avenue, Winter Park, FL, USA
407-759-6181
Guest Capacity: Up To 50
The Chapel & Cellar in gorgeous downtown Winter Park provides the perfect ambiance for intimate wedding ceremonies and receptions, bridal showers, outdoor cocktail parties, corporate events and more. Our charming Chapel was originally built in 1935, and we sit conveniently at the entrance of Hannibal Square. Our courtyard encompasses a […]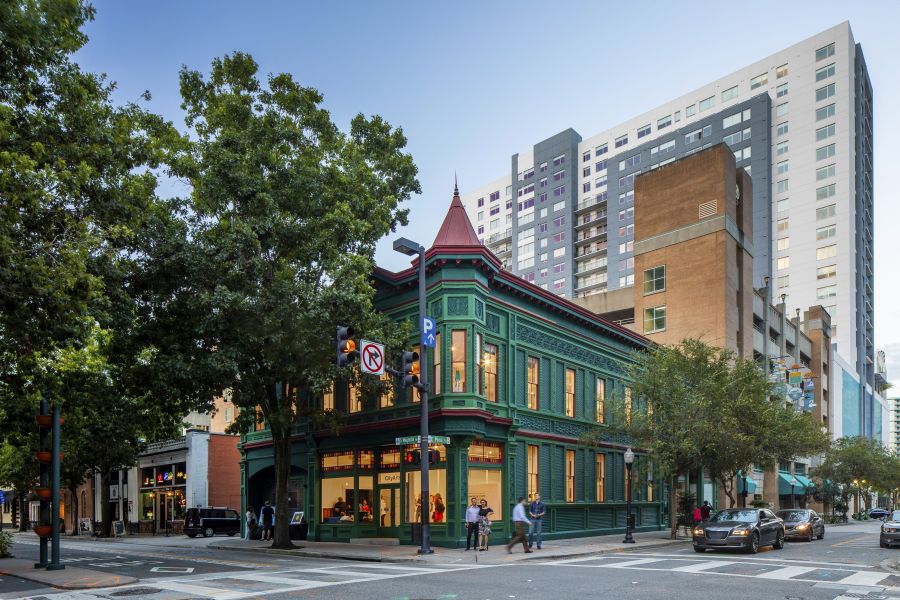 CityArts
39 South Magnolia Avenue, Orlando, FL, USA
407-648-7060
Guest Capacity: Up To 100
Please click here to view our full Event Planning Guide to learn all about our venue rental options! From vibrant and ornate to intimate and serene, CityArts Orlando is a venue that provides a unique, delightful, and inspiring experience for its visitors. Displayed on its historic walls are works of […]
The Howey Mansion
1001 Citrus Ave, Howey-In-The-Hills, FL 34737
407-906-4918
Guest Capacity: Up To 250
The breathtaking grounds, lush gardens and antique décor of The Howey Mansion make this highly-anticipated restoration Central Florida's most sought-after wedding venue. As one of Howey-in-the-Hills' historical treasures, the home has a rich history for hosting lavish parties with famous guests, from U.S. presidents to Hollywood starlets. The sense of […]
Harmony Haven Event Venue
6320 U.S. 98, Bartow, FL, USA
863-581-7400
Guest Capacity: Up To 200
Originally built as a citrus barn in the late 70's, our rustic and elegantly charming event venue comfortably seats 200 guests. The outdoor ceremony site is surrounded by a canopy of mossy oaks with market lights. A paved walkway leads to your happily ever after where vows are exchanged in […]
1885 Events at Rollins College
1000 Holt Ave, Winter Park, FL, USA
4076462541
Guest Capacity: Up To 200
1885 Events is an exciting initiative of Rollins College to provide a premier wedding and events venue, including full-service catering and event support. Built in 1932 and listed on the National Register of Historic Places, Knowles Memorial Chapel provides a picturesque setting in a venue that exudes class and precise […]
Venue 650
650 6th Street Southwest, Winter Haven, FL, USA
863-287-3814
Guest Capacity: Up To 300+
Hello, and thank you for visiting Venue 650. We realize choosing an event space can be a daunting task with criteria as varied as the individual. Venue 650 with its industrial-chic vibe and 9,400 square feet of interior space is perfect for any imagination seating 400 guests. Our lush garden […]
The University Club of Winter Park
841 North Park Avenue, Winter Park, FL, USA
407-644-6149
Guest Capacity: Up To 150
The University Club is located on an iconic corner in Downtown Winter Park adjacent to the shops, restaurants, museums, and a world-renowned golf course. The classic 1948 Mediterranean-style building is nestled among the moss-laden oaks and tropical foliage in one of Florida's most quaint towns. The club offers ample parking […]
Up the Creek Farms
3590 Valkaria Rd, Malabar, FL 32950
321-499-4232
Guest Capacity: Up To 200
Up the Creek Farms is an elegant and secluded wedding venue situated just outside of Melbourne, Florida that offers a unique taste of Old Florida charm. The eight-acre property honors the classic heritage of the state, framed by sweeping oaks draped in Spanish moss and verdant lawns, while incorporating modern […]
The Warbird Air Museum
6600 Tico Rd, Titusville, FL, USA
321-351-4047
Guest Capacity: Up To 300+
Be part of history and celebrate your nuptials at The Warbird Air Museum! With over 94,000 sq ft of space across our three hangars and spacious tarmac, prepare to be amazed by vintage aircraft and exclusive memorabilia. Both on-site hangars have sky-high ceilings, a spacious and open layout, and glossy […]
Osceola History - Osceola County Welcome Center & History Museum
4155 W Vine St, Kissimmee, FL 34741
407-396-8644 ext 2
Guest Capacity: Up To 300
Make your special day part of history. The Osceola County Welcome Center and History Museum in Kissimmee is available for wedding and receptions. Host your wedding surrounded by displays of Osceola County's early natural and cultural history. In addition to the museum space, this facility includes an event room that […]
1010 West
1010 West Church Street, Orlando, FL, USA
321-444-3584
Guest Capacity: Up To 300
Today, nestled behind this early 1900's storefront, (we left the outside just the way we found it), you'll find Orlando's most unique event space imaginable. Some are calling it "The Hidden Hangar" and others, "The Speakeasy". We just call it 1010 WEST. Speakeasies may no longer be illegal, but their […]