Affordable Wedding Venues Orlando & Central Florida
Yes, you really can find beautiful and affordable wedding venues in Orlando and throughout Central Florida (and we want to help!).
Our local wedding experts have sorted through hundreds of options to find venues where you can host an affordable wedding and stick to your budget.  The good thing about our list is that we're sure to have a budget-friendly wedding venue that fits your style—from intimate garden spaces to charming barn venues in the countryside to convenient modern hotel venues.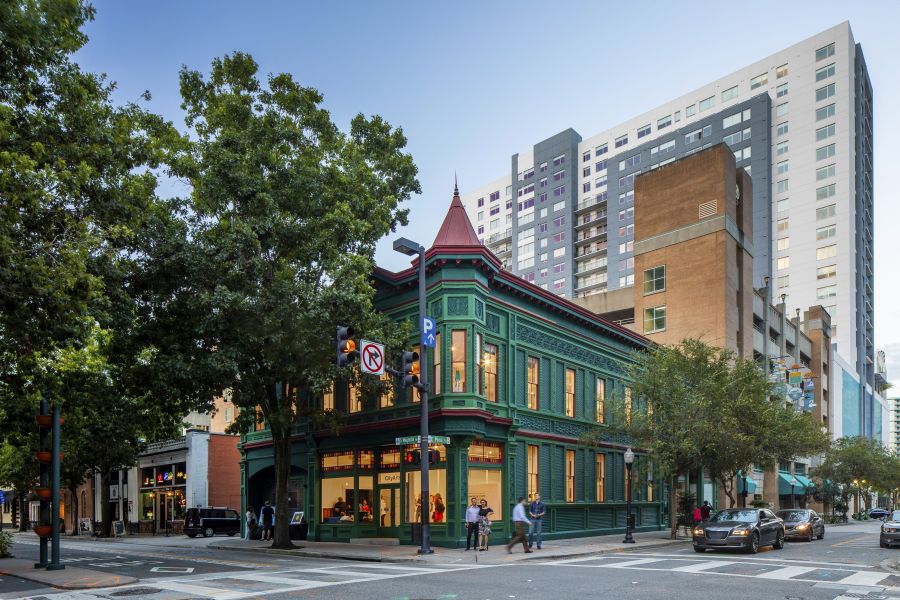 CityArts
Historic
39 South Magnolia Avenue, Orlando, FL, USA
407-648-7060
Guest Capacity: Up To 100
Please click here to view our full Event Planning Guide to learn all about our venue rental options! From vibrant and ornate to intimate and serene, CityArts Orlando is a venue that provides a unique, delightful, and inspiring experience for its visitors. Displayed on its historic walls are works of […]
Zoe Events
Event Center
8865 Commodity Cir #8, Orlando, FL 32819
407-613-5957
Guest Capacity: Up To 100
Welcome to Zoe Events, featuring elegance combined with comfort for your party, wedding or any other special event. We believe and are confident that the most important part of your event is that you receive excellent service at a price that is affordable and that the elegance and quality will […]
The BEV - Barney E. Veal Event Center
Ballroom
700 Generation Point, Kissimmee, FL, USA
407-483-1495
Guest Capacity: Up To 300+
The BEV (Barney E. Veal) Center is the perfect wedding setting for your once in a lifetime special day. Intimate weddings can be held in one of our four private spaces. The event center is also designed for those who have larger weddings in mind while hosting up to 450 […]
Mystical Winds Gathering Place
Barn
9014 Florida Boys Ranch Rd, Clermont, FL 34711
352-516-0107
Guest Capacity: Up To 250
We are an Open Barn Venue with a Southern Drawl Attitude ~ Lots of choices for Your Ceremony Site which includes Arch, Pews & Benches ~ Inside: Tables, Benches, Spool Tables, Photo Walls, Bar/Beverage Center, A/C in Bathrooms, Fire Pit, Bridal Cabin/Honeymoon Suite, Ol' Blue (Paul's '54 Ford Pick-up) for […]
Trellis 925 Urban Loft
Event Center
7594 W Sand Lake Rd, Orlando, FL 32819
407-440-0372
Guest Capacity: Up To 150
Stylish, Flexible, and Uniquely Yours! The Urban Loft by Trellis 925 is one of the most unique and flexible spots in Orlando Florida to host your wedding. Located in Dr.Phillips, the Urban Loft is close to all the attractions and boasts a New York Style feel with gorgeous indoor backdrops […]
Chapel Valley Farm
Barn
25339 County Rd 44A, Eustis, FL, USA
321-300-3470
Guest Capacity: Up To 150
The property features a quaint chapel, outdoor ceremony space surrounded by beautiful oak & pine hammock, covered outdoor reception space, poolside cocktail area, a gorgeous pond, working windmill and beautiful picturesque scenery. When the property was acquired it housed an old barn that unfortunately was just to low to make […]
Imperial 55 Event Center
Event Center
1335 Howell Branch Rd, Winter Park, FL, USA
407-743-5333
Guest Capacity: Up To 100
Imperial 55 is an intimate venue located in Winter Park, Florida. Our venue offers a clean, modern, flexible event space where you can celebrate your most memorable moments with family and friends. Our elegant white décor allows any theme to be incorporated with ease. Our 4 packages provide a variety […]
Osceola History - Osceola County Welcome Center & History Museum
Farm/Ranch
4155 W Vine St, Kissimmee, FL 34741
407-396-8644 ext 2
Guest Capacity: Up To 300
Make your special day part of history. The Osceola County Welcome Center and History Museum in Kissimmee is available for wedding and receptions. Host your wedding surrounded by displays of Osceola County's early natural and cultural history. In addition to the museum space, this facility includes an event room that […]
Celebration Gardens Orlando
Garden
1871 Minnesota Ave, Winter Park, FL 32789
407-960-2853
Guest Capacity: Up To 200
Celebration Gardens is an intimate outdoor wedding venue in Winter Park that offers romantic and natural settings for couples in the Orlando, Florida area. With elegant gardens full of lush foliage and stunning flowers, this historic park will leave your guests in awe. After all, there is nothing better than […]
THE 1883 Historic Venue
Historic
425 Citrus Avenue, Eustis, FL, USA
407-256-0113
Guest Capacity: Up To 100
Richly beautiful and uniquely enchanting, THE 1883 Venue is truly a hidden Florida treasure. Located in the heart of historic Eustis, THE 1883 has served as a chapel and gathering place for generations of families and friends alike for over 100 years. Today, curated furniture and art highlight the original […]
1010 West
Historic
1010 West Church Street, Orlando, FL, USA
321-444-3584
Guest Capacity: Up To 300
Today, nestled behind this early 1900's storefront, (we left the outside just the way we found it), you'll find Orlando's most unique event space imaginable. Some are calling it "The Hidden Hangar" and others, "The Speakeasy". We just call it 1010 WEST. Speakeasies may no longer be illegal, but their […]
Grape & The Grain Wine Bar
Backyard
1110 Virginia Drive, Orlando, FL, USA
(407) 674-6156
Guest Capacity: Up To 200
Looking for a unique venue for your next event? We host everything from birthdays to bridal showers, from weddings to graduation parties. Our laid-back atmosphere is perfect for meeting your friends to engage in sparkling conversations as you unwind, sip and savor. We first opened our doors on May 11, […]
Pioneer Village at Shingle Creek
Barn
2491 Babb Rd, Kissimmee, FL 34746
407-396-8644 x2
Guest Capacity: Up To 300
Osceola History offers a charming, rustic, and historic wedding venue. Pioneer Village at Shingle Creek is located on 10 acres including a nature preserve, century-old trees draped in Spanish moss, and historic buildings. This vintage, country, and shabby-chic setting lends itself well to traditional Southern weddings. Couples can host their […]
Ever After Farms Blueberry Barn
Barn
4400 Bouganvilla Dr, Mims, FL 32754
321-529-9319
Guest Capacity: Up To 200
Ever After Farms Blueberry Barn is located in Mims, FL. A charming white barn stands among acres and acres of blueberry fields as a picturesque backdrop to the perfect wedding day. Less than an hour away from Orlando on the beautiful East coast, this stunning location provides a secluded and […]
Ever After Farms Peach Barn
Barn
4455 Dixie Way, Mims, FL, USA
321-529-9319
Guest Capacity: Up To 100
Ever After Farms Peach Barn is located in Mims, FL. A charming white barn stands among rows and rows of peach trees as a picturesque backdrop to the perfect wedding day. Less than an hour away from Orlando on the beautiful East coast, this stunning location provides a secluded and […]
Avanti International Resort
Hotel/Resort
8738 International Drive, Orlando, FL, USA
407-313-0339
Guest Capacity: Up To 150
Congratulations on your recent engagement and upcoming wedding! We are honored to be considered to be a part of your big day. Enhance your special day with an elegant atmosphere and extraordinary service at the Avanti International Resort. Did we mention 2 complimentary pampering suites and 1 complimentary honeymoon suite?! […]